Dean's Office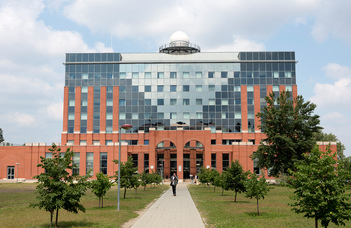 The Dean's Office is responsible for the coordination of communication and administration between the Faculty, the Institutes, the Rector's Cabinet and the Chancery.
The circulation of information concerning the Faculty, the management and administration of the Faculty's website and the supply of equipment.
The overall administration of the Faculty Council and the Dean's Council.
The administration of the Scientific Council, the Quality Assurance and Strategic Board, the Conciliation Council, the Faculty's Council of Professors, as well as the KHB and the TDT through the Division of Doctoral, Habilitational and International Affairs.
The administrational and protocol issues concerning the Dean.
The organizational affairs of the Faculty.
The administration and support of educational and research activities of the institutes through the divisions supporting the operation of the institutes.
You can read more about the administration of the Jubilee graduation here.
You can find the necessary forms concerning the application for awards and promotion on this website under Faculty/Documents.
Address: 1117 Budapest, Pázmány Péter sétány 1/A
email: dh@ttk.elte.hu or titkarsag@ttk.elte.hu
Dr. Melinda Varróné Boros Head of Dean's Office
Dr. Edina Rónai Manager Consultant
Dean's Secretariat
Hedvig Rábai Secretariat Administrator
Szonja Csuzdi chief EU research funding advisor
Nóra Jeney vezető chief EU research funding advisor
TIMETABLE CREATION
DIVISION OF DOCTORAL, HABILITATIONAL AND INTERNATIONAL AFFAIRS
Website: http://ttk.elte.hu/DHNCS
Éva Mercz Manager Consultant


+36-1-372-2603, +36-1-372-2500/6003


+36-1-372-2604, +36-1-372-2500/6004


mercz.eva@ttk.elte.hu
Péter Molnár Manager Consultant


+36-1-372-2500/6095


+36-1-372-2695, +36-1-372-2500/6004


sh@ttk.elte.hu
Eszter Virág Manager Consultant


+36-1-372-2602, +36-1-372-2500/6002


doktoranduszugyek@ttk.elte.hu,
Zsuzsa Buvári Manager Consultant


+36-1-372-2602, +36-1-372-2500/6002


doktoranduszugyek@ttk.elte.hu,


zsuzsa.buvari@ttk.elte.hu
Orsolya Szedmák Manager Consultant


+36-1-372-2612, +36-1-372-2500/6012


+36-1-372-2604, +36-1-372-2500/6004


mobilitas@ttk.elte.hu
DIVISION OF INFORMATICS AND EDUCATIONAL TECHNOLOGY
Miklós Tóth educational technician


1117 Budapest, Pázmány Péter sétány 1/A


+36-1-372-2684, +36-1-372-2500/6767


oktatastechnika@ttk.elte.hu
Gábor Bakai educational technician


1117 Budapest, Pázmány Péter sétány 1/C


+36-1-372-2500/8749


bakai.gabor@ttk.elte.hu
Anna Horváth educational technician


1117 Budapest, Pázmány Péter sétány 1/C


+36-1-372-2500/8749


horvath.anna@ttk.elte.hu
OTHER DIVISIONS:
a) Division supporting the operation of the Institute of Biology
b) Division supporting the operation of the Institute of Physics
c) Division supporting the operation of the Institute of Geography and Earth Sciences
d) Division supporting the operation of the Institute of Chemistry
e) Division supporting the operation of the Institute of Mathematics