The Night of Researchers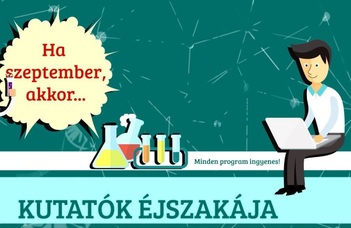 29. September 2023. 15:00 - 23:59
ELTE Lágymányosi campus, 1117 Budapest, Pázmány Péter sétány 1/c
2023. September 29. 15:00 - 23:59
ELTE Lágymányosi campus, 1117 Budapest, Pázmány Péter sétány 1/c
---
In line with tradition, ELTE TTK is also joining the national program series this year and we are looking forward to a number of events.
At the Faculty of Science we are waiting for a number of lectures, workshops and presentations, and in some cases we involve the audience itself in the physics, chemistry and biological lab experiments, as many simple experiments can be performed by the guests themselves. The lectures cover the entire spectrum of natural sciences from atomic physics to microbiology, up to geometry.
We will list the following programs which require a pre-registration for a limited number of places!
Programs are being uploaded.
Further details: szabo.noemi@ttk.elte.hu