Brief history of the Faculty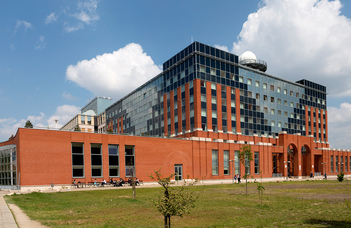 In 1635 Cardinal Péter Pázmány signs the founding documents of the University in Nagyszombat (today: Trnava, Slovakia). The first two faculties of the university were the Faculty of Humanities and the Faculty of Theology.
Eötvös Loránd University has been offering science courses since its foundation in 1635. Mathematics, physics and cartography were taught from the beginning at the Faculty of Arts. Chemistry, biology and Earth sciences were added to the curriculum by the second half of the 18th century. Following the rapid development of sciences, the independent Faculty of Science was formed from the science departments of the Faculty of Arts in 1949.
In 1950 the University adopted the name of the world-renowned physicist Loránd Eötvös. From 2001 the Faculty located in Lágymányos Campus, close to the Danube river. In 2010 ELTE was awarded the title "research university".
The Faculty of Science has nearly 40 departments grouped into five Institutes and one Centre. These cover disciplines in biology, chemistry, earth sciences, environmental sciences, mathematics and physics. There are about 4000 full-time gradute and 400 PhD students, including nearly 100 international students. Number of teachers and researchers more than 460, of which 80 university teachers, 17 of them are academic. Doctoral training program began in 1993, currently duration are 2 + 2 years. Besides a comprehensive educational curriculum, there is a vigorous program of research in all departments. The Faculty itself is thus a major national scientific resource.