Katalin Karikó was granted an honorary doctorate by ELTE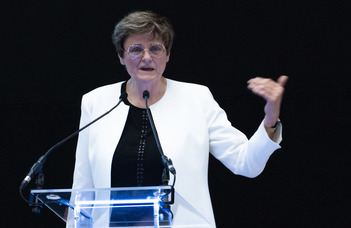 The Széchenyi Prize-winning research biologist received the award at ELTE Aula Magna on 1 July 2022. Subsequently, she participated in the scientific symposium organised in her honour in the Sphere Hall.
Academician László Borhy, Rector of ELTE, chaired the festive event of the ELTE Senate. Eötvös Loránd University awards the title doctor et professor honoris causa to highly influential scholars who have had a fruitful relationship with the institution for several decades. The honorary doctorate conferment ceremony was featured by the choir of the Institute of Arts Communication and Music at ELTE Faculty of Humanities, conducted by Ákos Erdős, habilitated associate professor.
Katalin Karikó delivered a speech with a personal tone in which she thanked Eötvös Loránd University for the honorary title.
In the afternoon part of the programme, a scientific symposium was held by the ELTE Faculty of Science in honour of the world-famous scientist. In her presentation, Katalin Karikó recalled the defining moments of her life, as well as the major milestones in the development of mRNA technology. The professor encouraged the students to keep their curiosity and open-mindedness, repeatedly emphasising how much impact the pleasure of scientific research has had on her way of thinking. Imre Kacskovics, Dean of the ELTE Faculty of Science, greeted Katalin Karikó handing over a bouquet of flowers to her.
After the professor's presentation, the attendees could have a glimpse into related research carried out at the ELTE Faculty of Science. Associate Professor Máté Varga, Full Professor András Perczel, Full Professor Mihály Józsi, Associate Professor Gábor Pál, and Full Professor Imre Kacskovics gave a lecture. The programme ended with a special round table discussion, when brilliant MSc and Ph.D. students at the Faculty of Science could address their questions to the new honorary doctor. The programme attracted great interest: nearly five hundred people attended the event.
Katalin Karikó is a research biologist, biochemist, senior vice president at the German biotechnology company called BioNTech, and research professor at the University of Pennsylvania. Her work was fundamental in the rapid development of an effective vaccine against Covid-19, which saved the lives of millions of people worldwide and opened new horizons in the development of further revolutionary medical procedures. The professor is one of the most influential scientists living today. Among researchers coming from Hungary, the impact of her work is comparable to that of the Nobel laureates.
The lectures of the scientific symposium organized in honor of Katalin Karikó at the ELTE Faculty of Science
can be viewed here.