Scientific symposium with Katalin Karikó at ELTE TTK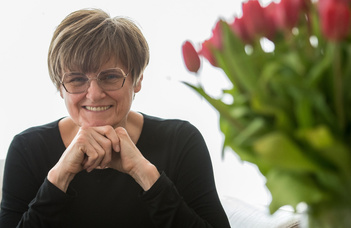 01. July 2022. 14:30 - 18:00
ELTE TTK Gömb Aula
2022. July 01. 14:30 - 18:00
ELTE TTK Gömb Aula
---
Internationally renowned research biologist Katalin Karikó had been chosen as a recipient of an honorary doctorate by Eötvös Loránd University. The awarding ceremony will take place on the 1
st
of July 2022, which will be followed by a scientific symposium honoring Katalin Karikó at the Lágymányosi Campus.
Széchenyi Prize recipient Katalin Karikó, the Hungarian biochemist who played a significant role in developing the medical technology of mRNA-based vaccines with her discoveries, will visit ELTE's Faculty of Science on the 1st of July 2022.
The research community of ELTE's Faculty of Science has planned several programs for the awarding, some of which will also be open to the Citizens of ELTE and the general public.
Program
14:30-15:00 Katalin Karikó's presentation
15:00-15:10 Máté Varga: The examination of the role of the pszeudouridilacio in vivo
15:10-15:20 András Perczel: The binding method of Omicron: contact analysis of the complex created by the binding domain of the Omicron receptor and the ACE2 protein
15:20-15:30 Mihály Józsi: The role of the alternative complement pathway and the possibility of its blocking in Covid-19
15:30-15:40 Gábor Pál: The development of antiviral and antithrombotic agents with controlled protein evolution
15:40-15:50 Imre Kacskovics: The development of a hACE2-Fc fusion protein capable of the prevention and therapy of Covid-19
15:50-16:30 Break
16:30-17:30 Roundtable discussion with Katalin Karikó with the contribution of ELTE TTK MSc and Ph.D. students
17:30-18:00 ELTE TTK laboratory visits
This free event is public; however, registration is required!
Seats will be filled in the order of registrations.
---
Roundtable discussion with Katalin Karikó Katalinnal: we are waiting for students' registration!