English-language programmes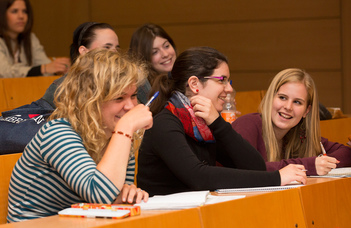 We offer eight master's degree and six doctoral programmes. These cover disciplines in biology, chemistry, earth sciences, environmental sciences, mathematics and physics. Several programmes combining theory, practice and research.
All Institutes and Centre have many internationally renowned experts of their fields. The research advisors collaborate with several research institutes and universities both in and outside of Hungary, and regularly have visitors from abroad doing research or giving courses.
Master's programme lasts two years. In the first two semesters emphasis is on theory and basic laboratory or field practice. The third and the fourth semesters are devoted to research and preparation of thesis. Additional spacializations are available in each master's programme.
Doctoral programme lasts four years. The programme is strongly research oriented: apart from attending specialized courses, the students are expected to start their research work well before the end of the first year. The aim of the training is to fully prepare students for a successful career in the life sciences: either in basic research or in the industry. Students should publish at least two papers in peer-reviewed internationally renowned journals of their field.

For further information choose the programme below.
---
Master's degree programmes
Doctoral programmes
---
Available mobility programmes on the website of Tempus Public Foundation:http://studyinhungary.hu/study-in-hungary/menu/scholarships
Call for applications on the website of the Stipendium Hungaricum Scholarship Programme: http://www.stipendiumhungaricum.hu/
---
>>>Click here for Incoming Erasmus Course List <<<
ELTE_Faculty_of_Science_intl_offer_for_2016-17_leaflet.pdf
International students may choose from eight master degree programmes and over 20 doctoral programmes. Several programmes combining theory and practice or research.